Soil and sand are integral parts of any landscaping project. For the best quality topsoil and the best grit sand, Beasley's Yard is here to be your foremost supplier. Our inventory of sand and topsoil in Columbia, Franklin, Nashville , Maury County, or Mt Pleasant, TN includes all of the essentials you need to complete your landscaping project to its fullest. Some of the products we offer include:
Topsoil: We have topsoil, which is kept dry all year in a 40′ x 40′ shed. Please contact ahead of time to inquire about topsoil availability.
Potting Mix: Our potting mix consists of pine bark and hardwood fines, peat moss, sand, lime, and perlite. It works best for a soil conditioner and can be added to a garden for a nice balance of drainage and water retention.
Mushroom Compost: We have the most beneficial compost in Maury County, TN, delivered to us directly from a mushroom farm! For new gardens, we recommend a 50% compost, 50% topsoil, and/or potting mix mixture. This compost does NOT contain wood products and is organic. It's made with a combination of horse bedding, chicken manure, peat moss, lime and gypsum. By the time we receive the compost, it's at an 8-9 decomposting stage.
Sand: If you're looking to install a pool, do masonry work around your property, or are simply looking for sand to fill a playground, come to Beasley's Yard. We'll supply you with top quality sand to start your landscaping project.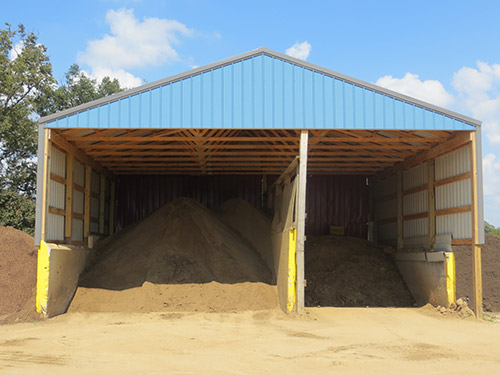 For the finest sand and soil products—no matter what variety or composition you're looking for—the answer is Beasley's Yard. Stop by today to consult with our expert staff about your soil or sand needs, and we'll be happy to recommend the ideal product for you. Contact us today at 931-486-2575 to learn more about our topsoil, landscaping rocks, or decorative gravel.