Soil and sand are integral parts of any landscaping project. For the best quality topsoil and the best grit sand, Beasley's Yard is here to be your foremost supplier. Our inventory of sand and topsoil in Maury County, TN includes all of the essentials you need to complete your landscaping project to its fullest. Some of the products we offer include:
Topsoil: We have regular and shredded topsoil, housed in a 40′ x 40′ shed to keep it dry all year round. Regular topsoil is great for filling in holes in your lawn, building retaining walls, as backfill and more. Shredded is used best for planting; it has been sent through a sifter to remove any rocks or clods, making it very easy to work with.
Grow mix: Grow mix is your best option for gardening. It includes all of the critical nutrients and nitrates required for prolific plant growth and is specially cultivated for vegetable growth. Our grow mix consists of pine bark and hardwood fines, peat moss, sand, lime, mushroom compost and perlite.
Compost: We have the freshest compost in Maury County, TN, delivered to directly from a mushroom farm! This nutrient-rich soil helps jumpstart any organic growth. It's made with a combination of wheat straw, manure, cotton seed hulls, cotton seed meal, peat moss, lime, gypsum and urea 43% nitrogen.
Sand: If you're looking to install a pool, do masonry work around your property, or are simply looking for sand to fill a playground, come to Beasley's Yard. We'll supply you with top quality sand to start your landscaping project.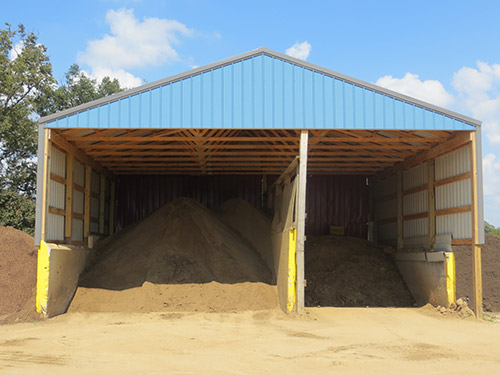 For the finest sand and soil products—no matter what variety or composition you're looking for—the answer is Beasley's Yard. Stop by today to consult with our expert staff about your soil or sand needs, and we'll be happy to recommend the ideal product for you. Give us a call today at 931-486-2575 to learn more.