Limestone gravel in Columbia, Arkland, Poplar Top, Maury County, and Mt Pleasant, TN is a great fill material for a number of projects and can be a great inert landscaping material for new developments. Beasley's Yard is your destination for this highly in-demand material. We sell several different varieties of limestone gravel for your convenience, including:
Fines: 1/4″
Crush and Run: 3/4″ mixed with Fines
3/4″
1-1/2″
Whether you're filling in under a new deck or you're adding fill to a new driveway, we've got the limestone gravel products you need for your unique project.
Limestone Delivery
If you choose to order bulk limestone gravel from us, don't worry about hauling it to your jobsite—we'll take care of that for you! We offer direct-to-you delivery as a convenience to our customers and take pride in working to get your product to you as quickly as possible. We'll expedite your limestone gravel delivery so you can move forward with your project appropriately.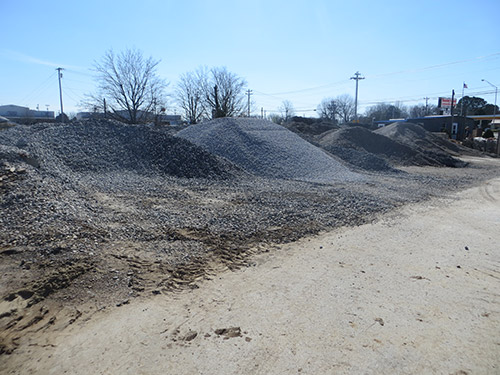 Why Limestone?
Why choose limestone as a fill material, instead of other gravels or plain topsoil? Simple: it affords landscapers a number of conveniences! Some of limestone's benefits include:
Crushed limestone can be used as aggregate in the formation of cement.
Limestone has great drainage capabilities and can be used as underfill.
Limestone is inert, meaning it holds up better to weathering and contamination over time.
It's highly affordable by comparison to other crushed rock and gravel.
Limestone is attractive and durable, making it a long-term solution for landscaping.
The benefits go on and on. To learn more about low limestone fill can lend itself to your next project, we invite you to stop by today and speak with one of our knowledgeable professionals. Or, for more information on pricing and delivery logistics on limestone, mulch, topsoil, and more, please contact us at 931-486-2575.