Due to price changes with our suppliers, our prices are undergoing changes. Our price list will be updated as soon as we receive finalized pricing but until then, please call to inquire about our most recent prices!
Beasley's Yard
For the largest selection of landscape supplies, topsoil and stone, Beasley's Yard is your premier destination. We offer decorative gravel, mulch, topsoil, sand, natural stone and the equipment to satisfy all of your landscaping needs. Best of all, we deliver directly to you! Stop by and browse our selection today.
The Best Landscape Supply in Maury County, TN
When you need quality landscape supply in Maury County, TN, trust Beasley's Yard. We're proud to offer our customers a huge selection of options, spanning decorative gravel and stone, to topsoil, sand, mulch and more. Whatever the nature of your landscape project, no matter how much material is needed to get the job done, we're here to help. Choose us for well-cultivated topsoil, robust mulch options and brilliant landscaping stones in Maury County, TN. And whatever you're buying, know that it's backed by a price that you'll be happy to pay—especially considering the superior quality of every fill option we sell.
Customers choose us for more than our landscape supplies in Maury County, TN. They partner with us for products because of our exceptional delivery capabilities! We're happy to deliver materials in bulk, directly to your worksite, to save you the time and effort of arranging pickup. Our services extend to customers throughout the area and we deliver to virtually anywhere in the region—even customers over 100 miles away. We invite you to stop by our lot today to see all of the exceptional-quality landscape materials we have in stock. We guarantee you'll find what you're looking for.
We're proud members of the National Federation of Independent Business (NFIB).
We offer direct-to-you delivery services for your convenience.
Our business is family-owned and locally-operated.
Our selection of decorative gravel is unbeatable, with over 17 unique types to choose from.
Our business is fully licensed, bonded and insured for your peace of mind.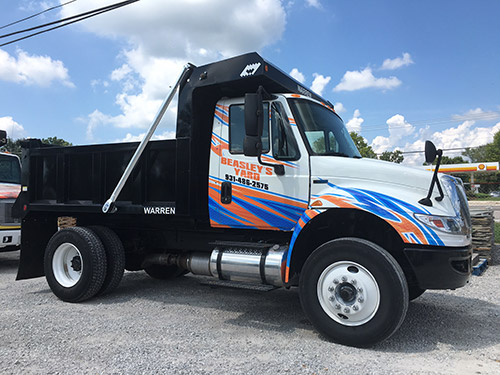 We proudly deliver landscape supplies up to 100 miles, including:
Columbia, TN
Franklin, TN
Spring Hill, TN
Thompson's Station, TN
Dickson, TN
Brentwood, TN
Murfreesboro, TN
Shelbyville, TN
Maury County, TN
Williamson County, TN
Get Quality Landscape Materials
From stone to soil, mulch to decorative gravel and beyond, you'll find a diverse range of landscape materials at Beasley's Yard. Contact us today to learn more about our inventory.
Contact Us